Website links? So last year. Using a QR code for wedding invitations is a trend that's still emerging, but we're loving it for a few reasons! I'm sharing exactly how to set up a QR code, creative ways to use it for your wedding, and invitation templates that incorporate a place for the scannable image.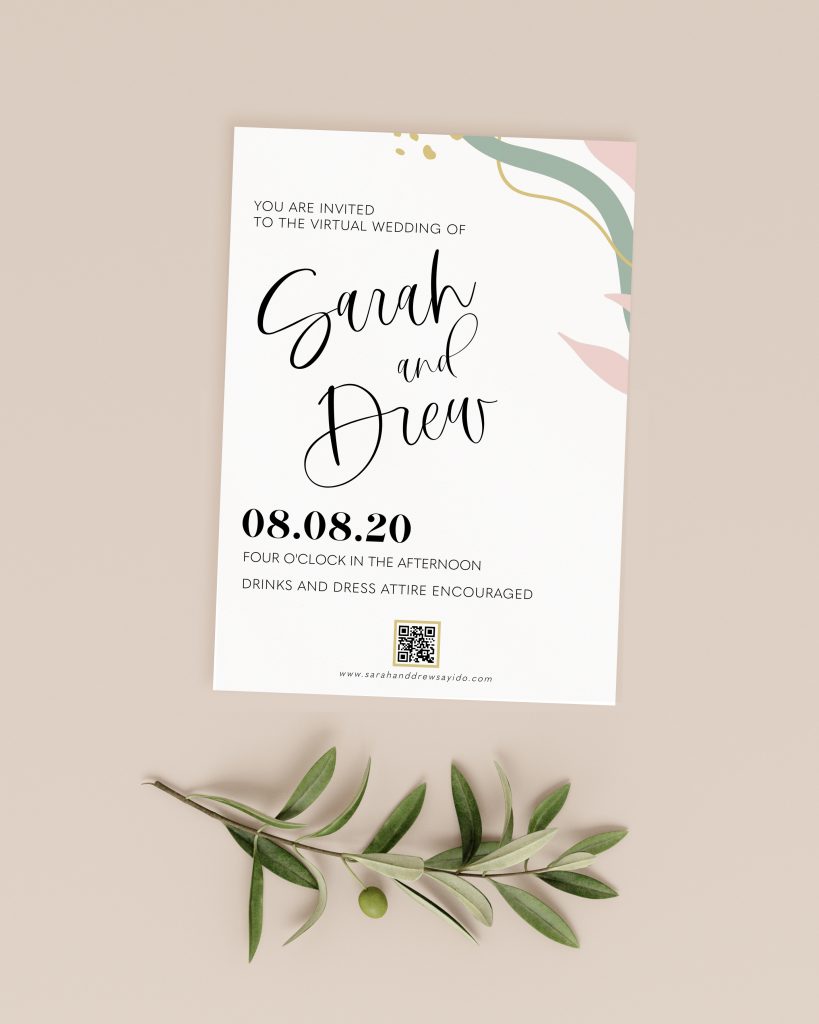 What are QR codes?
Quick storytime: I'm not a tech savvy person and always resistant to anything new. I've seen QR codes everywhere for years, but didn't know how they worked. If I'm being honest, I thought you had to have a QR code app and truly didn't understand the power of these funky looking images.
Fun fact: QR codes came out in 1994 and rose to popularity in 2002 in Japan. The QR codes we know today, scannable with our phones, really gained traction in 2011. Steph (that's me) didn't understand what they did until 2019.
Within the past year (a little embarrassing, but true!), I realized how QR codes actually work — and how incredibly easy they are to visit as a user and to set up for use. So, all you do is pull out your smart phone, open the camera, and hold it over the image – it does the magic from there! Nothing to download, just leads you straight to the intended link.
Pretty neat, right? QR codes are frequently used on business cards, signage, menus, instructions, packaging, and more. I haven't seen them used on stationery, like invites, too often and I don't know why the heck not – here's why using a QR code for wedding invitations is an awesome idea.
QR Code Wedding Website
So many couples opt for a wedding website as a place to list the full logistics of their big day. Instead of writing out the long website URL on your invitation or details insert, just create a QR code (it's 100% pain free – the steps to creating your own are below!).
It makes the website accessible immediately and your guests don't have to type in your full website link. Not only is it super easy, but dare I say – fun? When I see a QR code on something, there's a little bit of a surprise as to what I'm getting when I scan. This is a great way to make sure people actually visit your website: pure curiosity.
Online RSVPs
I've been working with couples to design wedding invitations since 2013 and I can tell you that choosing an online RSVP is definitely growing as a trend. Rather than the traditional RSVP card with pre-stamped and addressed envelopes, couples are choosing the virtual RSVP for a few reasons. Often ease and cost prevail, although I do still recommend the traditional RSVP for more formal weddings!
With a QR code, you can have guests respond directly via your link letting you know if they can or cannot attend. When they read your RSVP instructions with a QR code, instead of thinking "I'll do that later", they can just pick up their phone and do it instantly.
You can keep wording simple and state: "Please scan to RSVP. We appreciate your response by September 1 and look forward to celebrating with you!"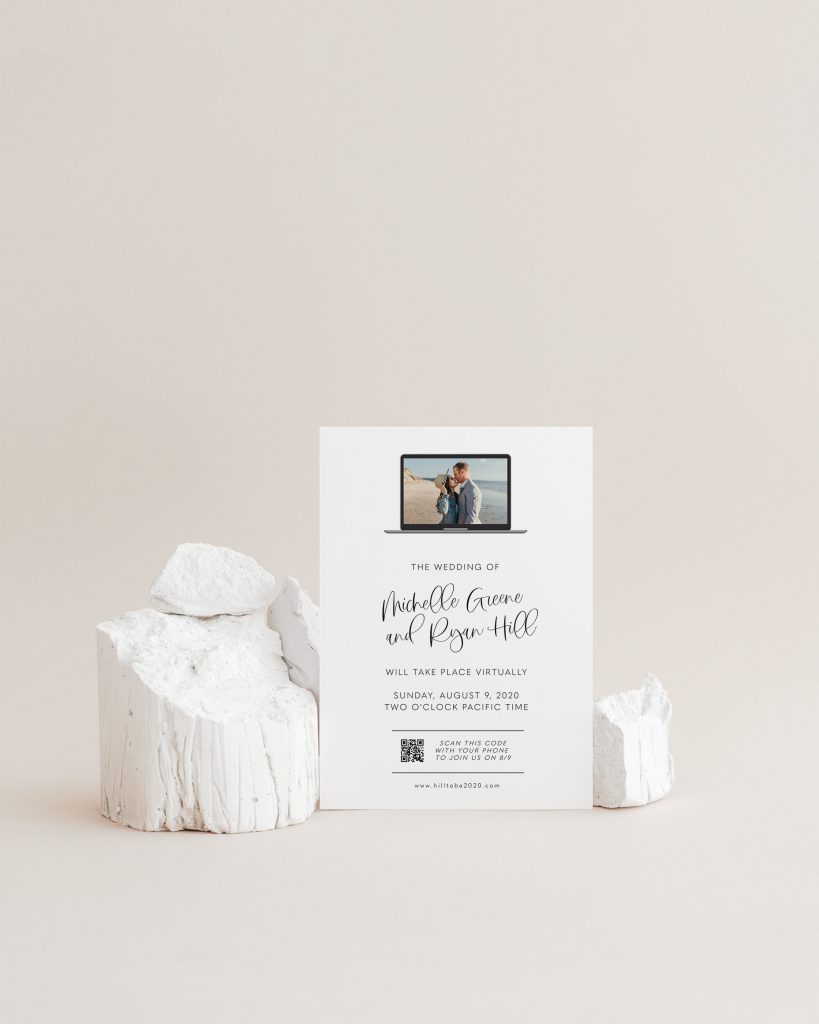 QR Codes for Virtual Weddings
In 2019, I don't think anyone ever dreamed that weddings would become virtual within the next year, but here we are!
Meeting links for Zoom and Skype live streaming sessions can get long, especially if you want to include a password. QR codes are the perfect way to make attending a virtual wedding super, duper easy. Just scan and you're in!
We have a mini collection of invitations for virtual weddings, all with a space for adding your custom QR code.
How to Create a Custom QR Code for Wedding Invitations
Spoiler alert: creating a QR code is easy. If I can do it, I promise you can!
Once you have your URL, visit a QR code generator website. Drop your link and ta-da! That's it. If you're fine with keeping the standard code, you can just download! If you want to change the color or add a logo, you'll have to create a free account.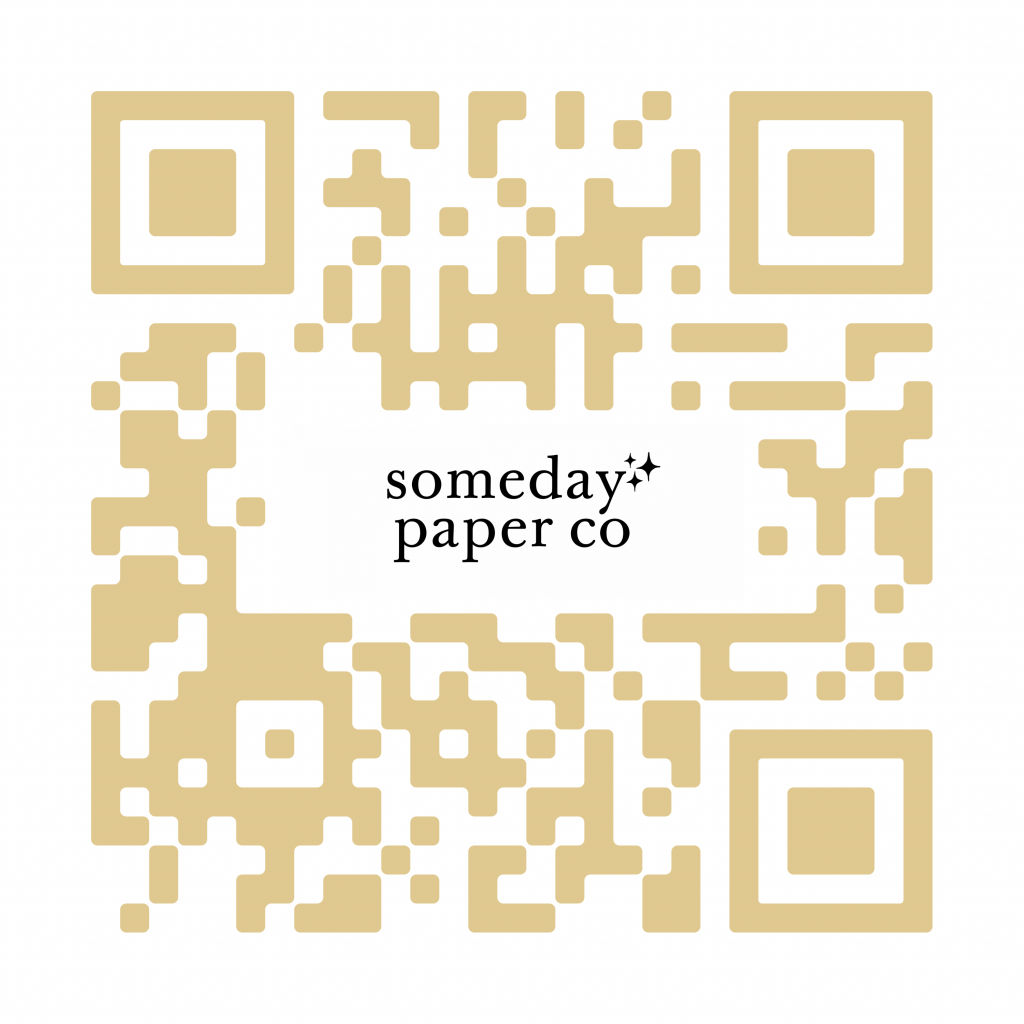 Tip: Keep colors dark, some phones have trouble picking up lighter shades.
If you choose one of our template that already has a QR code, you can easily drop it in. When customizing the invitation, just click the code and "replace image". Upload your custom QR code and you're done!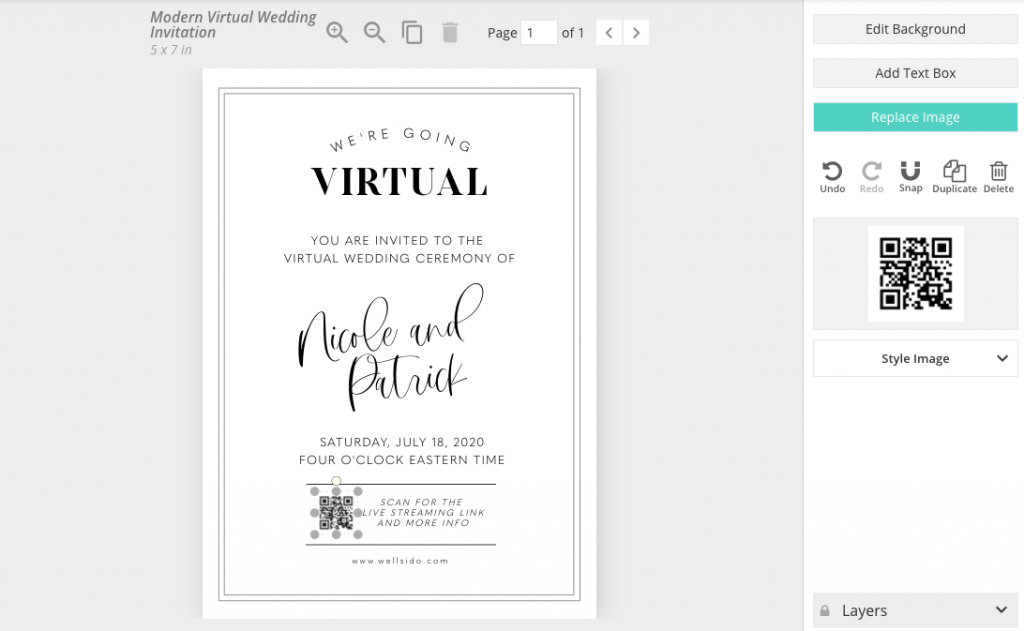 You can also "add a new image" to any of our designs that don't have the QR code or include with your own design.
Before printing everything, test your code out. It can be harder to scan through a screen, so zoom in if you need to. It'll be much easier to scan once printed, but you want to make sure you got it right first!
So, what do you think? Are you going to use a QR code for your wedding invitations? Let me know by commenting below!