Everyone is on a budget and often invitations are one of the first things to sacrifice when it comes to allocating wedding funds. (I have no idea why since invitations are the first impression of your entire big day, the detail that ties it all together, and one of the only things you get to keep after the big day is over – just sayin!)
What if I told you that you can still get beautifully designed invites with quality printing, without breaking the bank?
Easy Wedding Invitation Templates
Say hello to wedding invitation templates – one of my favorite wedding hacks for saving money!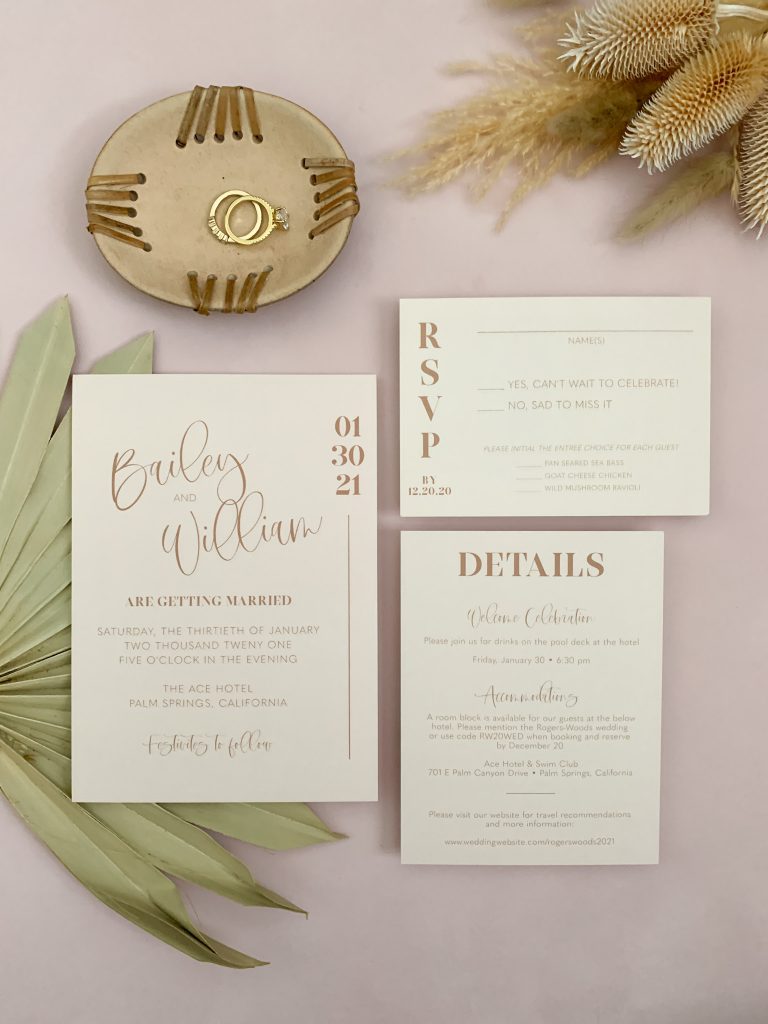 Instead of working one-on-one with a designer, you find an existing design you like and customize it yourself. If you're thinking – no way can I design my own invitations, read on 'cause it's easier than you may think!
You don't have to be a designer or even tech savvy to use our wedding invitation templates. Each design includes a free demo so you can even test it out before you buy. You can read more about exactly how the process works right here!
It's beyond easy – most clients spend less than 10 minutes editing the design to customize their invites before downloading to print. And if for some reason, you want to have a pro edit for you – we can do that too!
Wedding Invitation Printing
Your invitations deserve to be on nice paper, with quality printing. Since it is the first detail of your big day, it gives guests a preview of the event – subconsciously telling them how to dress and even how much to gift. No printer paper here!
We partner with an amazing online print shop, Prints of Love, where you can easily upload your files. Their matte cardstock is my personal favorite for wedding invitations! Pricing is great four couples on a budget and they often have sales running with discounts.
All invitation orders include free envelopes, which is an awesome bonus. As of February 2022, code "Love10" will earn you a 10% discount on orders of $49 or more. Visit their website for current sales!
If you don't use Prints of Love, we recommend using a local print shop where you can discuss the specifics of your order with someone. For best quality, we always outsource our printing. It might feel like it's more cost effective to print from home but when you add in the cost of paper, ink, time spent troubleshooting, a paper trimer, and time cutting – it is usually well worth it to leave it to the pros!
Your wedding invitations matter, they're so much more than just a piece of paper. They truly are the first impression of your entire event and serve a pretty important role – getting your guests to your wedding. We're excited to offer our affordable templates so you don't have to sacrifice on design or quality, even if you're ballin' on a budget. Visit the template shop now!